Hey kiddo!
It's been a little bit, no? Unlife has been pretty hectic lately! I finally got my second and third performances behind me, and now I'm trying to just slow down for a bit and maybe make some new music (what a novel idea, huh?)
Last time we spoke I mentioned the VSD keychains (http://vampirestepdad.com/product/logo-keychain/), which are on their way to me now, so I hope to have them shipped out next week maybe? We'll see. I'll keep you up to date!
My second performance, at the Drunken Unicorn, here in Atlanta, had some technical difficulties that made things…well, it made for an interesting end to the show. If you've not seen it, you can check that here: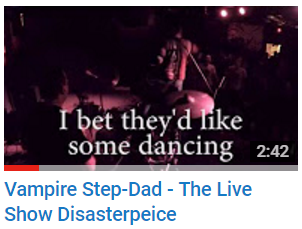 Also, I'm doing a stupid little "contest" to help stroke my own ego. Facebook lets people "review" Pages. So I'm going to give a free cassette (or CD) of Love Bites to whoever comes up with the funniest / stupidest review of my page by April 21st (Friday). Would you like to get your hands on one of those cassettes (or CDs), but can't justify spending money on a dead media format? Well now is your chance to exploitt your time and sense of humor to get useless stuff! How fun!
You can write your review here: https://www.facebook.com/pg/vampirestepdad/reviews/
Anyway, not much in the news right now. But hopefully soon I'll get the time to sit down and and make some new music and I'll give you some peeks at that. Only time will tell!
Keep being awesome!
---